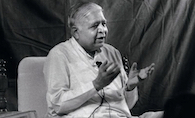 This section of the website contains some additional resources for those who are considering taking their first course
What is Vipassana- Interview with S.N. Goenka

Overview of a 10-day course

Practicing Vipassana - Esperience of meditators

S.N. Goenka's speech at the Millenium World Peace Summit

UN-sponsored conference with the world's leading spiritual leaders, New York , August 29, 2000.

4 X 7 Vipassana

A short video made at the Belgian Vipassana center, for Belgian TV, multi-language with Italian subtitles.
This is the story of how hope came to one of the world's most notorious prisons - Tihar Prison in New Delhi. It is the story of how Kiran Bedi, India's first woman Inspector General of Prisons, fought for the authentic rehabilitation of thousands of prisoners. More than anything, it is the story of the prisoners themselves, of the profound changes they gained through the practice of Vipassana meditation. This ancient technique is now traveling beyond Indian borders. It has already been experimented in other prisons in the United States and in Taiwan and England, with very interesting results.
Winner of the Golden Spire Award - INTERNATIONAL FILM FESTIVAL - SAN FRANCISCO 1998
Produced and directed by Eilona Ariel and Ayelet Menahemi
Karuna Films Ltd - 14 Yad-Harutzim St. Tel-Aviv 67778, Israel
The film is addressed primarily to prison operators and administrators, judges, guards. It is in fact an attempt to answer questions that come from prison administrators after they have seen the film "Doing time, doing Vipassana", or after the idea of using meditation as a tool for the rehabilitation of inmates has been proposed to them.
She documents a pilot program that involved the use of Vipassana meditation at the "Minimum Security Prison" North Rehabilitation Facility in Seattle, USA.
With the collaboration of several Vipassana teachers and meditators, and prison staff members, seven women engaged in ten days of total silence. They practiced an ancient meditation technique - Vipassana - for ten hours a day, descending deeply within themselves to understand the nature of their behaviors and impulses. Such an experience produces a profound transformation and offers a tool to continue that process of transformation.
The film also documents the personal and professional journey of Lucia Meijer who, with determination and broadmindedness, inspires the prison staff in this new and unconventional project. Interviews with prison workers reveal a wide range of reactions, from interest to skepticism. But the results show that the transformation also affects the prison facility.
Produced and directed by David Donnenfield.