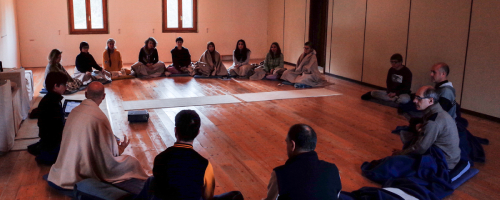 Vipassana Italia Association
The first ten-day course organized in Italy following this tradition took place in November 1986. Since then every year has seen more and more courses.
In 1991a group of meditators started a non-profit association, the Vipassana Italia Association, which deals with the organization of courses and guarantees the correctness in following the principles that govern the teaching of Vipassana.
"The association aims to introduce a universal meditation technique, accessible and acceptable to all, regardless of race, religion or political opinion" (from the statutes of the association)
The association aims, through the diffusion of this meditation technique, to favour an education towards self-knowledge, developing a high standard of ethics, mental concentration, awareness and deep understanding of our mental and physical reality.
Since the association is not tied to any funding body, the running of courses is made possible by those who, having participated in at least one course and having benefited from it, feel the desire to help others discover this technique, offering donations, thus allowing the organization of further courses.
In 1998 the first permanent structure was opened, a centre where meditation courses are organized. The current centre at Lutirano opened in 2009.